Master growing a following with your work and stories
If you give people a way to follow your journey, they will.

Get Updates & Never Miss Out 🚀
BIPM5 is coming up Oct 17 - Nov 4, 2022!
It is 2022. You knew having an online presence and an audience was the key to success. You created a Twitter account and started tweeting, but no one seemed to pay attention to you. You felt like talking to air.Worse, you started questioning if you had any values to bring to the online world.You know there's a way to do it because some people have cracked the secret code. You tried tweeting wisdom like big influencers. You went to other people's tweets to engage first. Nothing worked because they were scattered tactics or even the wrong strategies for where you were at.
You know who you are in real life, you just don't know how to show it online
You often cannot come up with ideas to tweet
When you have an idea, you're afraid to get 0 engagement and people judge you for that
You don't know how to find posts to engage with or invite engagement in
You get on Twitter feeling overwhelmed and lost like a wild goose chase
You are close to burning out and are on the verge of quitting
If this is you, you're like 80% of the people getting on Twitter. You've been painted the wrong picture, taught the wrong early strategies, and placed in the wrong corner of the Internet.
Let me show you another way.
---
---
If you want to build an online presence and a following, there are 6 key pillars the most influential voices master behind the scenes.
Build in Public Mastery is the most extensive course covering all 6 pillars to help you showcase yourself, your work, and your stories to build a following who rallies around you.
---
Ready to give yourself a 2nd chance and do it the right way? You can join 100+ creators to achieve:
Why Twitter seems wild and scary but how you can show up as yourself confidently
How to never run out of ideas to share by working with your stories
The 3 storytelling and engagement frameworks so you can interact with anybody online
The system you implement to control Twitter instead of the other way around
The truth about building online relationships and how you do it
How to grow as an independent creator and be in demand
What steps to take to have successful launches supported by your raving fans
---
The story behind Build in Public Mastery
When I first got to know Building in Public, I remembered me saying "I love it - this is how I've been living my life!" I value honesty and openness so much that I started creating everything online in public.I went on to write the Build in Public guide that was read by 10,000+ entrepreneurs. I've also been coaching entrepreneurs and getting on podcasts and events to spread the mindset.Now I've developed this in-depth course by taking everything I know about how to build in public to help you grow your online presence and following simply by showing your work.This is not just content stitched together, this is a learning experience. Your learning experience.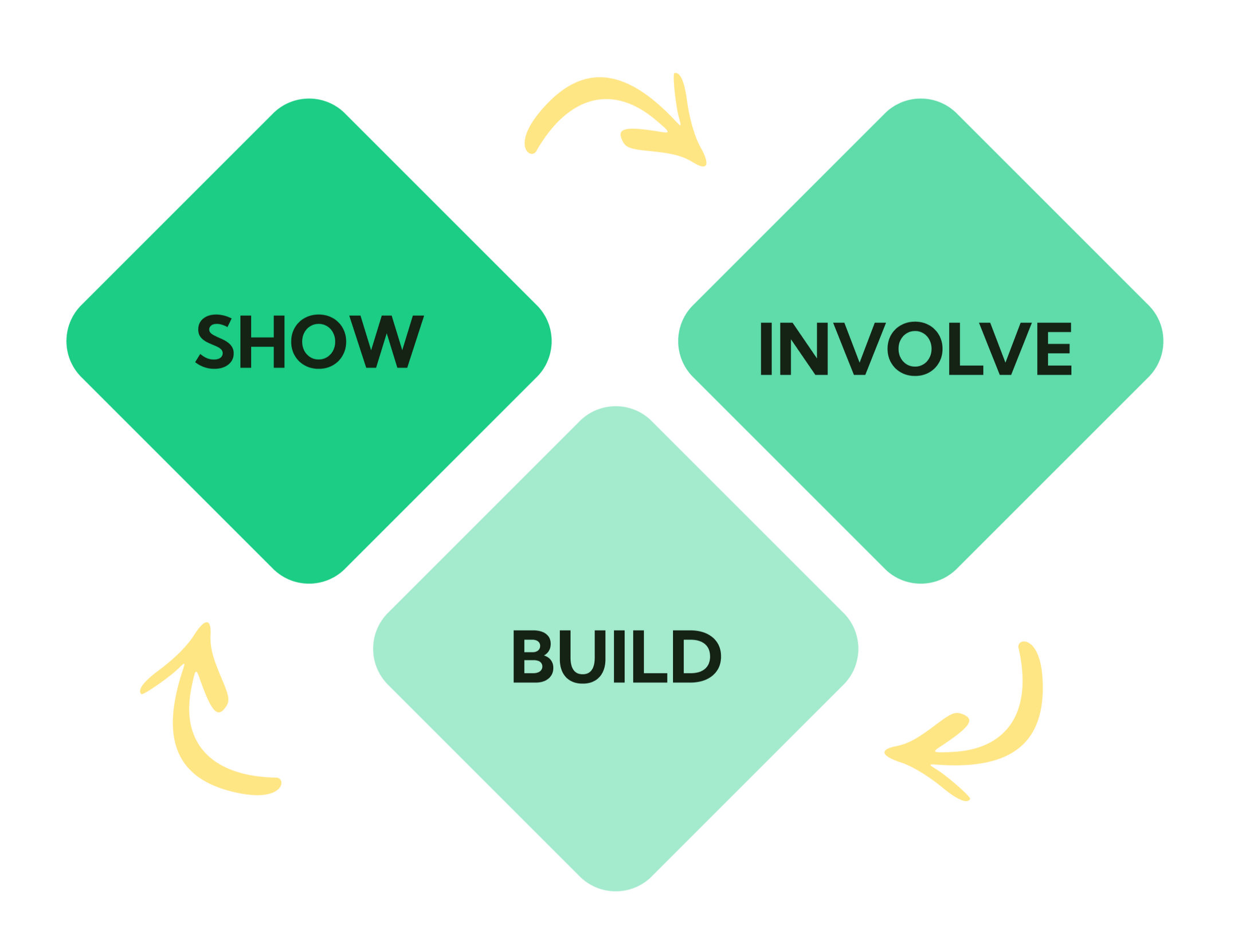 Does Build in Public work?
Nathan Barry
Founder of ConvertKit
Nathan has 58k Twitter followers but, more importantly, he runs ConvertKit with $29M revenue in 2022. He has openly talked about the importance of growing an audience in your journey.Nathan said in his article, "By sharing your journey publicly—and inviting friends, family, and complete strangers along for the ride—you will create your own fan club who are actively rooting for your success.""Some will buy your products, others will tell their friends, and still more will cheer you on."Read his original article here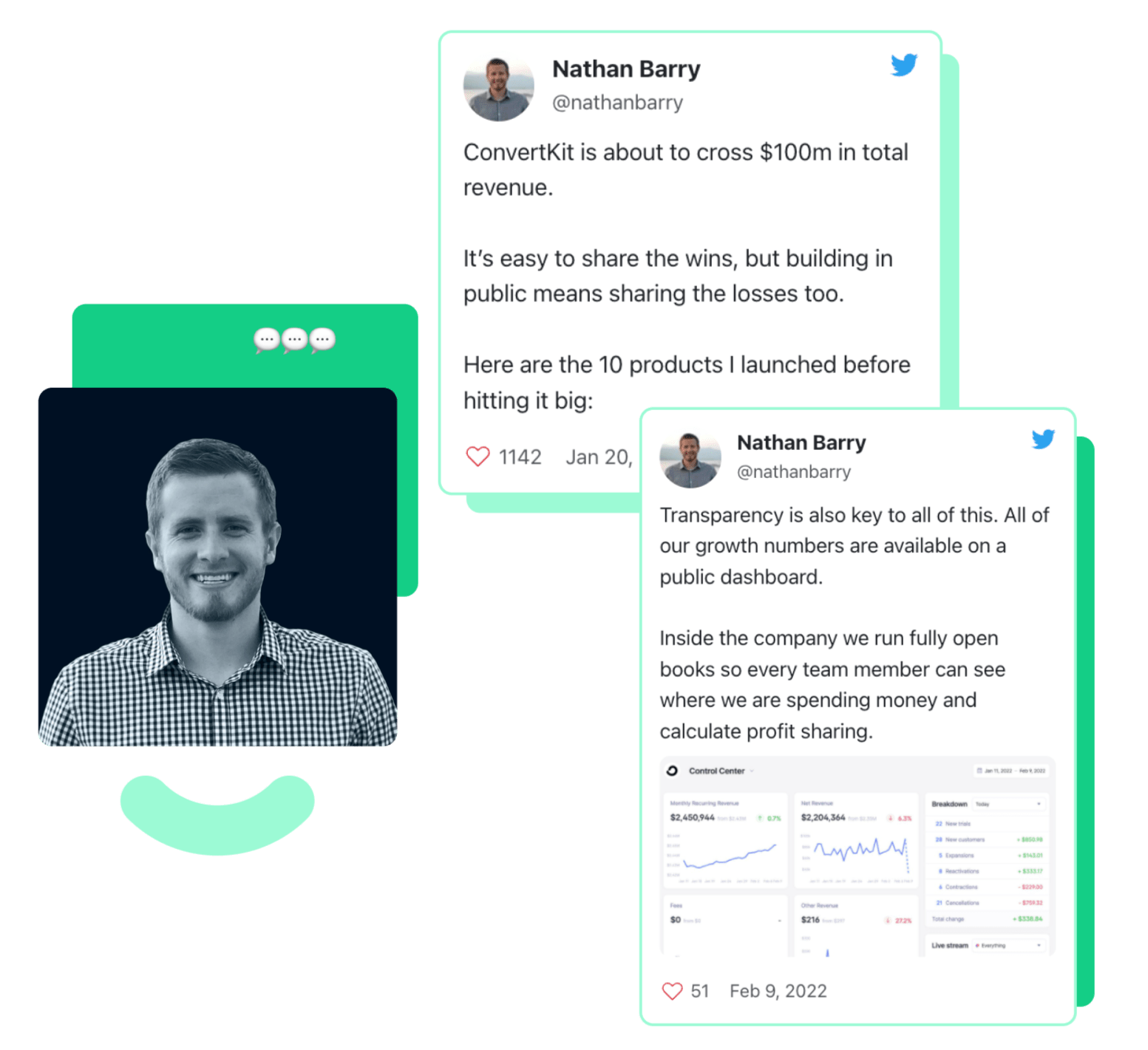 ---
What is this course?
Build in Public Mastery is a 12-month hybrid learning journey combining self-paced materials with a live cohort 3 times a year and monthly events.
You get instant access once you enroll and you can attend one of our live cohorts. You get support in our online community and join a variety of events from hot seats, to workshops, to meetups.
A 3-week live cohort featuring orientation, 6 live activity-based workshops, and graduation so you can learn with the community <check out a workshop sample>
12-month access to the community & ongoing hot seats, workshops, and events
Detailed walkthrough of how to use Twitter effectively
30 "in public" storytelling templates with question prompts to build your creative muscles
Kevon's 12k tweets dataset growing from 0 to 9k followers in 12 months
Tutorials and discounts on the best Twitter tools to help you share, track, and grow
An online Slack community where you can access all alumni and new students, a safe place to ask your questions, and discuss & share new ways to grow your brand and following
Lifetime access to all materials plus all future updates
(Bonus) Behind the scenes case study on how to build a course in public in 42 days and then making $18k in the first 60 days
(Bonus) Detailed case study of Twitter accounts at 5 different stages and their audience growth strategy
Live Cohorts & Hot Seat Sessions
I don't believe in just giving you all the videos and articles and let you figure out the rest alone. When I see students go from
insecure and lost → confident and expressive
I know a live cohort is the key to helping you grow.
Our next live cohort <BIPM5> is coming up Oct 17 - Nov 4, 2022.
BIPM3
BIPM4
Luke Tyler
Music Producer, Community Lead
"I want to thank Kevon for introducing me to the idea of building in public. It has helped me to be open, authentic, and to share knowledge and experience.""I'd recommend Kevon's course to anyone who 'feels the fear' but still has a burning desire to create."
Melvin Varghese, PhD
Podcaster, Psychologist, Course Creator
"The thought of being so transparent just felt really overwhelming.""My favorite part of being in the cohort was 1) the awesome people that you get to meet and 2) the different frameworks and tools that Kevon uses to Build in Public.""Kevon is awesome. Good person and great heart. He'll gently guide you but also push you a little bit."
This course is for creators
---
If you want to create things online under your name, this is for you.
---
If you are creating apps, books, courses, and other digital products, this is for you.
---
If you want to have a presence & community with you on Twitter, this is for you.
---
If you're looking to play the long game instead of taking shortcuts, this is for you.
Hey, Kevon here 👋
For the first 8 years of my career, I was a hard worker. I dedicated all my time to the companies I was working for or co-creating. When the last company didn't work out, I thought to myself "Dang! I'm still a nobody."At the same time, my first child was coming along. I started rethinking how work and family fit into my life. I wanted a family-oriented life with more time and flexibility.From that day onwards, I knew I had to build myself a presence and a voice online and then grow a sustainable business with them. But, I had no idea how to start and get people to notice me.So I started documenting my journey, sharing my learnings, and telling people what I was working on Twitter. It was slow at first because I had no followers. Then my Twitter followers, newsletter subscribers, and website visitors all started to go up! People resonated with what I shared and I met a lot of amazing people.That's when I first realized the power and potential of Building in Public!I'm here to show you the way so you and I can both live the life we want.
You'll get access to a growing library of expert interviews
Samantha Demers
Samantha grew her Twitter from 200 in 2021 to 6,900+ followers in 9 months. by interacting with her audience and building friendships.
Steph Smith
Selling almost 4k copies of Doing Content Right, Steph shares tips on finding our voices and creating content that rises above the noise.
Max Haining
Max runs 100DaysOfNoCode community and course and he shares how he builds up everything from zero on day 1.
Melvin Varghese, PhD
Melvin runs a podcast with 1.2 million downloads & a course with 300+ students. He was in BIPM2 as he wants to Build in Public to 10x his business.
Build in Public Success Stories
Build in Public Mastery has helped more than 100 creators find their voice, show their work, and grow their brand and following. The stories below are written by students who want to share their experiences before and after taking part in the program. You can also reach out to them!
From university drop out to confidently building in public
Build in Public Mastery taught me how to share my story without being a marketing sleazeball
From university drop out to confidently building in public
I was struggling as a health coach. Build in Public Mastery helped me find my voice
Embark on Your 12-month Journey
Be the White Belt master ⚪
Become a master of Build in Public & Twitter.
Participate in our 21-day challenge

Join 6 live interactive workshops & guest interviews

Access a full library of self-paced video lessons

Access to office hours on week 2 & 3

1-year access to alumni group
$600
Or pay in 2 installments ($319)
Most popular choice
Be the Blue Belt master 🔵
Join the upcoming cohort and get personalized guidance to review, discuss, and strategize your growth plan.
Everything under White Belt ⚪

(+) 1 60-min strategy call

(+) An in-depth audit of your online presence & social content

(+) Priority support during the cohort

(+Bonus) Access to Launch with Traction Blueprint

(+Bonus) Instant access to Easy Content Magic Course
$1,000
Or pay in 2 installments ($529)
Get Updates for the Next Cohort <BIPM5> 🚀
Oct 17 - Nov 4, 2022. Limited seats.
---
When you share your journey while building it, you can get valuable insights and feedback from your audience that shape your product.You will build something a lot of people want.
---
Eddie Bockelman
Entrepreneur, Creator, 12k Twitter Followers
"A year ago, I wanted to build an audience on Twitter but I didn't know where to start. I'm so glad I found Kevon. He's incredibly insightful and able to break down what works so that it's easy to understand. I'm now able to understand and use authenticity and relatability to involve my audience."
Jennifer Newcomb
Writer, Author of 4 Books
"I initially struggled with overthinking and putting too much pressure on myself while sharing on Twitter. The course was an eye-opening experience to just be me, show up authentically, and make equal, respectful, and friendly connections. There was a real emphasis on trusting yourself and humanizing other people, which has really improved how I show up."
Maitry Vaghela
Fitness Startup Founder
"I'd like to thank Kevon for putting this incredible course together. It's transformed the way I think of my personal brand and audience building. It makes sense to me as when I look at my real-life interactions, I naturally gravitate to people who I perceive as 'authentic', and online is no different."
Miguel Espinoza
Developer, Indie Hacker
"As an indie hacker, I knew the importance about building an audience & sharing your voice, yet it felt like I was climbing a mountain. With Kevon's advice and tactics, it made me feel comfortable about just being me, confident in what I had to say, and just being more open and authentic."
Meera Datey
Web Developer, Founder
"I always wanted to find my voice. I had many scattered thoughts and lacked focus. Kevon's framework helped me discover myself. In a few weeks, I made more progress than I would have in a year's time. Another benefit of the course is the supportive cohort members, each bringing in a valuable perspective."
Mike Cardona
Digital Marketing Entrepreneur, Newsletter Creator
"Kevon's expertise, wisdom, and insight are incredible. I learned, and it reminded me of things I can and should do to grow and engage my audience during the course. From day one, the odds will be in your favor. It was very actionable, but also very insightful at the same time - I loved it."
Freeze
Engineer, Creator
"I was feeling lost and had no sense of direction while navigating Twitter. There were people I aspired to be on the platform and I wanted to showcase my personality as freely as they did but I was shy.""I'm surprised at how the course improved my overall self-expression online. As an introvert, I had a hard time sharing or even making friends online. It's very interesting that I went from the quietest person in the room to someone who volunteered to share after the breakout sessions."
---
Money Back Guarantee
I want you to be a successful creator. If you go through the videos and coursework of Modules 1 & 2, show your work on Twitter, and still don't find the course valuable, I'll happily refund 100% of your course fee within 30 days of your enrollment date.
---
FAQ 💭
Is this course only for Twitter? Will I get followers in 3 weeks?
Most of the techniques and examples are Twitter-oriented, but the general concepts are applicable across social media platforms like LinkedIn.Audience building requires commitment. This course covers all the major things you need to know to grow your following, but I can't guarantee that you'll gain lots of followers and engagement quickly.
---
When does the next cohort start?
BIPM5 is Oct 17 - Nov 4, 2022.
---
What time are the live sessions during 3-week cohort?
A total of 6 live Zoom activity-based workshops happen Tuesday & Thursday each week at 8:00PST / 11:00ET / 15:00GMT / 23:00GMT+8.We also have orientation (Oct 14 8:00PST) and graduation (Nov 5 8:00PST).
---
What if I cannot attend the cohort or any of the live workshops?
This course is designed so that you can go through the curriculum at your own pace.The live cohort with workshops is an enhancement because we know a community-oriented learning experience is a key to shaping your build in public mindset.But don't worry, all live sessions are recorded and uploaded within 24 hours.
---
How many hours per week should I expect to commit to the course?
Outside of live cohort, you can decide on your own pace. My recommendation is at least 3 hours per week.During the live cohort, a total of 3-4 hours for live workshops plus another 4-12 hours depending on your commitment level.The more you do, the deeper you go, and the more you get out of it.
---
Do you offer any discount?
I understand the price might not be affordable for everyone. I am offering scholarships to people worldwide, so email me at kevon@publiclab.co and I'll be happy to share the application with you.
---
What is your refund policy?
I want you to be a successful creator. If you go through the videos and coursework of Modules 1 & 2, show your work on Twitter, and still don't find the course valuable, I'll happily refund 100% of your course fee within 30 days of your enrollment date.
---
I have more questions, how can I contact you?
Send me any questions you have to kevon@publiclab.co and we'll chat more 🙂
Copyright © 2022 Transparent Lab Limited. All Rights Reserved.
Get Updates & Never Miss Out 🚀
BIPM4 runs Jun 13 - Jul 1
---
Wait - one more step!
Go to your email inbox to confirm your email address, otherwise we can't send it to you.
---
You're all set :)
You'll get updates when enrollment for Build in Public Mastery opens.
---
Unsubscribed!
You'll no longer get future updates on Build in Public Mastery. Before you go, I just want to say - thank you!--- Kevon
---
Unsubscribed This Cohort!
You'll still get future updates when we roll out a new cohort of Build in Public Mastery. Cheers!--- Kevon
---
Wait - one more step!
Go to your email inbox to confirm your email address, then we can deliver the case studies to you :)
---
Unsubscribed!
You're all set! If you ever want to pick up Build in Public to grow your business, you can check out our course.
Apply for a Scholarship 🏛
If you're an entrepreneur or creator building up your online presence and voice but the course fee limits your chance to participate, you're welcome to apply for a scholarship.We evaluate applications based on 2 factors:
1. If the course fee is a barrier for you OR you live in a part of the world with lower purchasing power
2. You're underrepresented in entrepreneurship, including migrants, ethnic minorities, non-binary, and othersThere are two types of scholarships: 70% off and 30% off.We're reviewing scholarship applications all the time, so apply anytime to get in the next cohort.
Learn to Write Build-in-Public Tweets in 12 minutes
I broke down 7 tweets from one of the most authentic entrepreneurs I've ever seen on Twitter to show you how to do it. Each tweet has storytelling tips, Build in Public tips, and an action item for you.
You get a community learning experience
6 modules in 3 weeks

6 live Zoom workshops, 2 per week

A course workbook ✍ designed to help you work through the course

Personalized feedback from Kevon

2 office hours in weeks 2 & 3

Buddy system 🤝

Orientation & graduation party 🎉
You can also learn at your own pace
15+ videos 🎥 on key concepts

15+ articles & case studies

Slack community 💭

Lifetime access to materials & recordings ⭐
We keep each other accountable
You and I won't give in to these 🤜🤛:
Long, boring lectures

Impatient students who "want 500+ followers in 3 weeks"

Disrespectful classmates
You'll be comfortable sharing the ups and downs of your building journey 📢
Your audience is sick of hearing more fluffy marketing stories. When you open up and share the behind-the-scenes with them, they want to follow you and see what you're doing!
You'll have a system from documenting to sharing 🎯
You no longer have to spend hours each day on social media fighting for attention. With a simple system, you can show up consistently by quickly capture what you're working on and share these meaningful stories
You'll involve your audience in the building process 👍
Your audience is the best people to shape your product because they're your potential customers. Get them involved and build an amazing product that they're ready to buy.
You'll grow your super loyal audience and they'll support your work 🚀
Hacky tactics help you gain followers quickly, but since they're not following "you" as a person, the effect doesn't last. You'll focus on your loyal fans, and they'll help you build more products, grow the community, and spread the word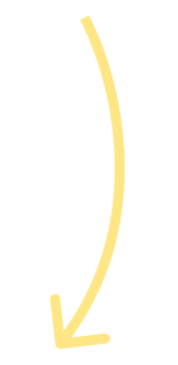 Our 6-Module Curriculum 🔥
1. Overcome Your Fear of Expressing Yourself Online
An audience is built on your brand and voice, and your voice is built on your ability to put yourself out there. No successful online entrepreneurs can get away with hiding behind their screens. This is why we start off with removing your fear to share your own thoughts and stories.
2. Capture & Highlight Key Events in Your Journey
Expensive audience-building courses show you all the social media growth hacks to get you more followers. But the truth is ... these hacks are not sustainable. You get raving fans by showing your real work. Guess what - your work is interesting if you know how to frame it.
3. Tie Your Sharing to Your Launch Goals
You want to tweet to build up momentum for your launch. Every tweet should tell your audience a perspective of the product that they're not aware of. All you need is a framework that connects the dots.
4. Adopt the Winning System
With books and self-paced courses, you can only see examples and learn theories. In this course, you'll be taking actionable small steps and implementing your system. If you want to have the best launch, it is important that you use the system that works.
5. Involve & Engage Your Audience Publicly
Many entrepreneurs imagine solutions and find out no one wants what they've built. You can avoid this by directly involving your audience all the time. You just need to know how to ask the right questions. Best part? You'll find that they are invested in your success and want to be your early customers because they play a key part in it.
6. Deepen Your Relationships with Audience
So far, a lot has been about you - your fear, your stories, and your approach. To make them your fans, it is more a 2-way interaction that goes beyond your own action. No worries - when you grasp the essence of how online relationships work, you are on the way to having 1,000 super fans as you keep going.
Be the White Belt Master ⚪
$599
Or pay in 3 installments ($209)
Instant access to Build in Public Mastery. Join our next 3-wk cohort & monthly events. Get community support for 12 mo.
BIPM5 is coming Oct 17 - Nov 4, 2022!
Be the Blue Belt Master 🔵
$999
Or pay in 3 installments ($349)
Everything in White Belt. An in-depth audit & action plan of your Twitter presence. 1 one-on-one strategy call. Priority support.
Learn to Write Build-in-Public Tweets in 12 minutes
I broke down 7 tweets from one of the most authentic entrepreneurs I've ever seen on Twitter to show you how to do it. Each tweet has storytelling tips, Build in Public tips, and an action item for you.
Be the White Belt master ⚪
Join the upcoming cohort for a 3-week group learning experience. You'll be fully equipped to start Building in Public.
6 live workshops with breakout activities & guest interviews

Full library of self-paced video lessons

Actionable course work for all 6 modules

Community activities: orientation, accountability, connections

1-year access to alumni group
$599
Or pay in 2 installments ($319)
Cohort is limited to a total of 20 seats
Most popular choice
Be the Blue Belt master 🔵
Join the upcoming cohort and get personalized guidance to review, discuss, and strategize your growth plan.
Everything under White Belt ⚪

In-depth review of your online presence before Day 1

2 one-on-one calls to discuss & strategize your next steps

Priority support during the cohort

50 Build in Public & Audience Building tactics included
$999
Or pay in 2 installments ($529)
Max of 8 seats
Be the Black Belt master ⚫
Join the upcoming cohort and onboard a 12-month iterative journey with accountability to build and grow your business in public.
Everything under Blue Belt 🔵

12 months access to a Black Belt mastermind group*

1 monthly group call to discuss progress & challenges*

2 full review checkpoints across 12 months

Access to future course updates
$2,599
Or pay in 2 installments ($1,379)
Max of 4 seats
Onur Genes
SaaS Founder
"Back in the day, I was thinking it's not worth sharing. Who cares about my opinions on that?""Then with the techniques you teach plus having similar people like me in the course, this gives me encouragement.""The feeling of getting recognized is a really great feeling!"
Rainar Angelo
Creator
"The FUEL framework to tell stories in my tweets is a great way!""I love the engagement with the people in the cohort because it is such a small group."
Your 13-min Build in Public Crash Course
This is what you get here:
How I kicked off my journey to a 10k+ Twitter following

3 powerful stories you can use now

Use Build in Public as your flywheel growth engine
When we open our next enrollment, you'll get an email! If you have more questions in the meanwhile, feel free to email kevon@publiclab.co.
If you're itching to kick off your Twitter presence, you can also read my book: Find Joy in Chaos.